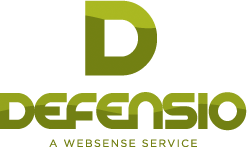 Web filtering is at the heart of all Websense® web security products. Websense Web Filter has been screening inappropriate web content to manage employee productivity and your legal liability for 15 years. Its database is still ticking at the heart of our more modern products.
Web filtering gives web security a great start.Researchers have long recognized Web Filter as a class-leading product. Its award-winning URL database, powered by the Websense ThreatSeeker® Network, leverages a host of advanced analytics, including:
Rules
Signatures
Heuristics
Behavior analysis
URL categories
Get advanced controls and simple scalability. Web Filter features a centralized architecture that easily scales to any size company, from a small single-site operation to a large enterprise with offices worldwide. And its advanced yet easy-to-use controls mitigate risk, enhance productivity and preserve bandwidth by:
Regulating use of more than 150 protocols and applications.
Providing coverage for both web and non-web applications.
An advantage of Web Filter is its easy-to-use dashboard.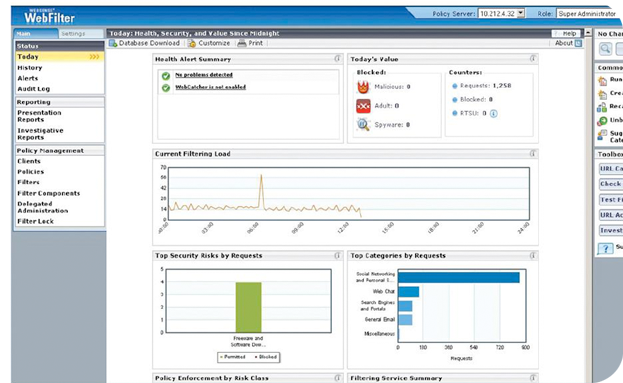 Today you need Web Filter — and more. Since then we've added many new web security categories beyond web filtering, including real-time security updates to protect your users and data.
However, today's web is much more dynamic. It requires you to have real-time inline security, due to cybercrime developments such as:
Targeted attacks using social profiles and lures.
Spear-phishing with embedded web links.
Search engine poisoning leading to exploit kits and selective malware downloads.
Call-home communications and data theft.
Real-time web communication requires real-time web security. Though you can still purchase Web Filter, we urge you to consider upgrading to Websense Web Security, with its real-time security updates, or to one of our gateway products with real-time inline defenses. Consider the following solutions, which provide you with the very best in modern web security:
TRITON™ solutions
Web security gateways
Web security
Minimum server requirements for software deployments:
Note: The following are the minimum requirement guidelines for a basic Web Filter installation. For more detailed deployment planning information, please contact us.
TRITON Management
Supported Operating Systems
Windows Server 2003 R2 32-bit
Windows server 2008 32-bit
Windows server 2008 R2 64-bit
Minimum Hardware Requirements
4 CPU cores (2.5 GHz), 4 GB RAM, 7 GB Disk Space
Supported Virtual Systems
All components are supported on the following virtual systems platforms:
Hyper-V over Windows Server 2008 R2 (x64, 64-bit)
VMware – Any version with full support for the operating systems described above
Filtering Components
Supported Operating Systems
Windows Server 2003 32-bit
Windows Server 2003 R2 32-bit
Windows Server 2008 32-bit
Windows Server 2008 R2 64-bit
Red Hat Enterprise Linux 4