Panorama: Centralized Management
Panorama is a centralized security management system that provides global control over a network of Palo Alto Networks next-generation firewalls. Using the same look and feel that the individual device management interface carries, Panorama eliminates any learning curve associated with switching from one mechanism to another.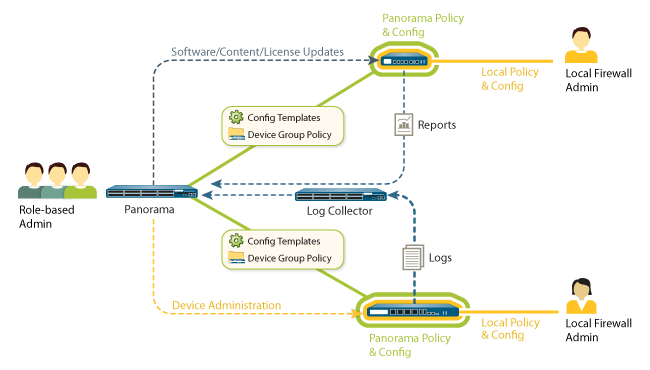 Centralized policy management.
Panorama allows administrators to control all aspects of the devices and/or virtual systems under management (security, NAT, QoS, policy based forwarding, decryption, application override, captive portal, and DoS protection). Using pre- and post-rules, Panorama administrators can enforce shared policies while allowing local policy flexibility. Rules in between the pre- and post-rules can be edited locally or by a Panorama administrator who has switched to the local firewall context.
Simplifying firewall deployments and updates.
Panorama enables organizations to centrally manage device software and associated updates: SSL-VPN clients, GlobalProtect clients, dynamic content updates (Applications, Threats and antivirus), and software licenses.
Centralized logging and reporting.
View logs and run reports across dynamic or locally queried data aggregated from managed devices. Distributed reporting can be done without a need to forward logs from FWs to Panorama. Aggregate user activity reports can be run for mobile users that travel between branches. This will report the users activity regardless of where they are currently located globally.
Log storage and high availability.
Using NFS, organizations can use Panorama to expand the log storage for long-term event investigation and analysis. Reliability is ensured through high-availability which will provide fail over of central management.