GlobalProtect: Consistent Security Everywhere
Whether users are checking email from home or updating corporate documents from the airport, the majority of today's employees work outside the physical corporate boundaries. The increased workforce mobility brings increased productivity and flexibility while simultaneously introducing significant security risks. Every time a user leaves the building with their laptop, they are bypassing the corporate firewall and associated policies that are designed to protect the user and the network. GlobalProtect extends the same next-generation firewall-based policies that are enforced within the physical perimeter to all users, no matter where they are located.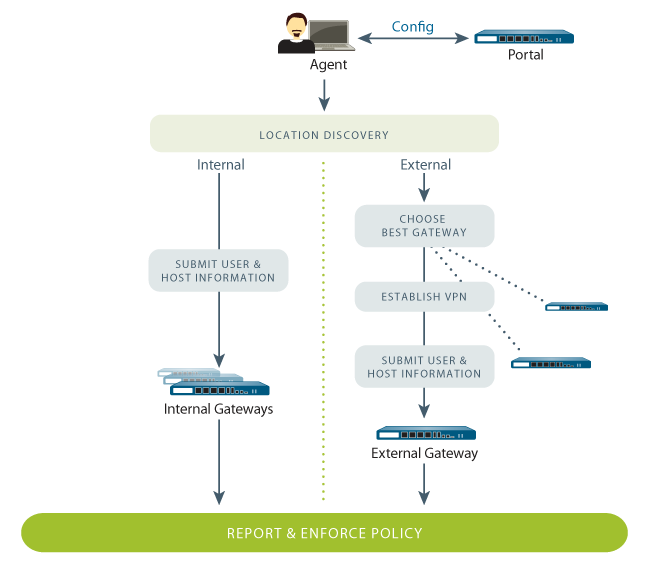 A logical perimeter protects roaming users.
GlobalProtect expands the boundaries of the physical network, effectively establishing a logical perimeter that encompasses remote laptop and mobile device users irrespective of their location. When a remote user logs into the device, GlobalProtect automatically determines the best gateway available and establishes a secure connection. Laptop and mobile devices will stay connected to the corporate network at all times, and protected as if they never left the corporate campus.
Standardized control over users and devices.
GlobalProtect ensures that the same secure application enablement policies that protect users at the corporate site are enforced for all users, independent of their location. As a result, the operational challenges associated with creating and managing separate policies for corporate firewalls and remote users are eliminated. In addition to policy criteria of applications, users and content, GlobalProtect enables administrators to also set policy based on the health or status of the device. With GlobalProtect, policies can be expanded to include the security level of a Microsoft Windows-based or Apple Mac OS X device, such as the latest operating system patches or other settings required by corporate security policy.
VPN secure remote access.
GlobalProtect enables remote users to access the corporate network by automatically establishing either an SSL or IPSec-based VPN connection depending on location and configuration. The remote access connection is authenticated through one of several mechanisms (local DB, RADIUS, LDAP, Active Directory, Kerberos and Smartcards) and once the secure remote connection is established, users are protected by the same security policies as corporate users.
Built-in intelligence delivers superior user experience.
Designed to be as non-intrusive as possible, GlobalProtect automatically discovers the optimal gateway for a given location, confirms the security policy and establishes a network connection using single sign-on. The end result is a superior and transparent user experience that is consistent, regardless of the location.
Platform support.
Windows XP, Vista, Windows 7, Windows 8
Mac OS X 10.6 and later
Apple iOS 4.3 and later
Android 4.0.3 and later